Be brave in initiating changes and solving problems, but also involve team players.
Co-Shi worked as a clinical nurse, nursing instructor, and head nurse for ten years before becoming the director of the Hospice Home Care Programme at the Catholic Sanipax Socio-Medical Service and Educational Foundation in Taiwan. Her passion for palliative care inspired her to pursue higher education in the field. In 1993, Chao graduated with a master's degree in oncology nursing and a Ph.D. degree in nursing with a focus on hospice and palliative care from Case Western Reserve University in the United States. Upon returning to Taiwan, she resumed her role as the director of the Hospice Program and gained a full professorship of nursing at National Cheng Kung University (Taiwan) in 2002. In the past four decades, she has cared for over 600 end-of-life patients, and her work has also helped establish Taiwan's palliative care service model. She was awarded the Special Dedication Award by the Ministry of Health and Welfare in Taiwan for her tremendous contribution to the service, leadership, education, and policymaking of palliative care. In 2011, she was named "Mother of Palliative Care in Taiwan" by the Taiwan Brilliant Women Survey.
Co-Shi set a visionary strategic plan for establishing palliative care in Taiwan through policy, education, service, and research. She is one of the important driving forces behind the Nature Death Act 2000 in Taiwan, which was the first Nature Death Act in Asia. The act honoured patient's right to choose hospice and palliative care and established their right to sign a "Do Not Resuscitate" order.
As a strategic and resourceful nursing leader, she understood that policy-making requires multidisciplinary collaboration. While caring for end-of-life patients and educating the next generation of palliative care professionals, she worked tirelessly to reach stakeholders involved in making the legislation. She advocated and lobbied for the act to superintendents of hospitals, administrators of health departments, and legislators from the Executive Yuan. Since the passage of the Natural Death Act, over half a million residents in Taiwan have signed the letter of intent, and the utilisation of palliative care services has also increased drastically. According to the 2015 Quality of Death Index published by the Economist Intelligence Unit, Taiwan ranked No. 6 internationally, and No. 1 in Asia. This great accomplishment would not have been made possible without Co-Shi's utmost advocacy and lobbying effort.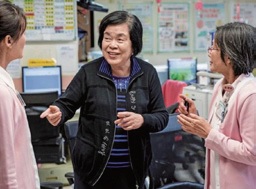 The greatest challenge she found of promoting palliative care was the taboo topic of "death" in Taiwan. Death was not commonly discussed among family members and even medical professionals. Through the death and dying education for healthcare professionals and the general public, Co-Shi encouraged discussion around death, increased the awareness of a "good death", and slowly changed the public's perception and mindset on end-of-life care. The shift of culture takes patience, conviction, communication, and education, and she is truly a change maker through her actions and words.
She believes that patients are the best teachers, and they continue to inspire her to improve the quality of death in Taiwan. Nurses are the key players in providing palliative care, but support from the multi-disciplinary team is essential. Her recommendation to the next generation of nurses is that to make changes takes a lot of courage, wisdom, and love. Be brave in initiating changes and solving problems, but also involve team players who will help you to achieve your goals.
---
Related Resources
The Worldwide Hospice Palliative Care Alliance(WHPCA)
Palliative Care - Celebrating Nurses Contributions Report