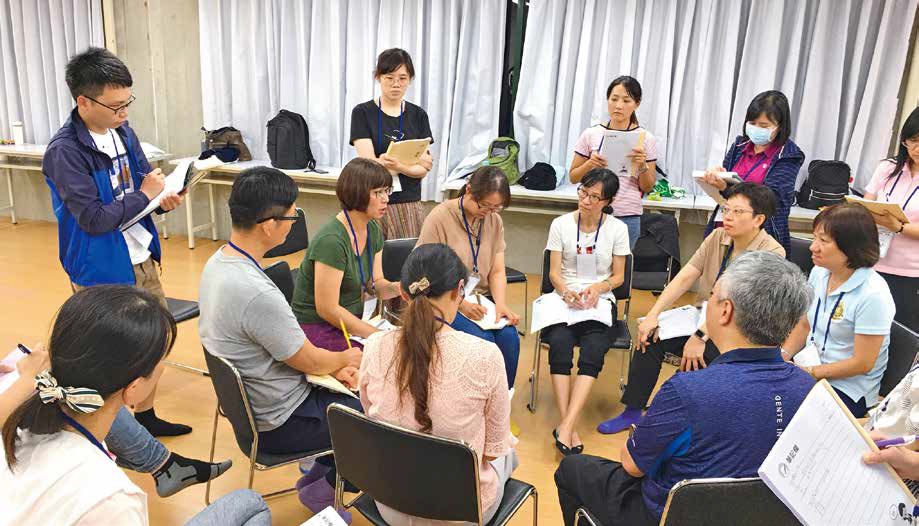 With the teaching manpower in place, the next challenge was the drafting of the curriculum syllabus. The Foundation assembled these seed teachers and people with lofty ideals about hospice in the country to plan exclusive course outlines for different occupations. For instance, Lai Yun-Liang wrote the three English letters A, S, and K from top to bottom on a white piece of paper, and then E, P, and S on the right, and connected these six letters with a few lines. 
"We set the learning direction to cultivating the correct attitude (Attitude), adept skills (Skill) and precise knowledge (Knowledge), and divide the course contents into three stages: elementary trainees (Elementary), on-the-job professionals (Professional) and expert teachers (Specialist). For different levels of  professionals, we provided corresponding educational training content and depth," says Lai Yun-Liang. Although the ASK+EPS syllabus has long been replaced by more professional courses, in the first ten years of hospice development this model was indeed an important cornerstone for nurturing many talented professionals for Taiwan's hospice field. 
Earnestly Seeking Partnerships
Despite being ready with enough teachers and well-designed courses, not many clinicians registered. It was a surprising discovery during enrollment that only a small handful of people, who were already interested in hospice and palliative care, signed up for classes. 
In the beginning, the Foundation wrote to various hospitals and asked them to send people to attend, only to receive a few positive responses. According to Lai Yun-Liang, "After all, the Foundation was just a small, private organization. Why should the hospital wish to cooperate with us? The key point was that few people in the medical profession at that time knew about hospice and palliative care." 
Lai Yun-Liang recalls, "In the beginning, we worked very hard and asked the hospital to send just two people to train. But soon we found that this kind of promotion was too slow, so we returned to our original intention and asked ourselves, what is the motivation for offering the courses?" And the answer was always there: for the vast number of patients who needed to receive hospice services. 
Goodness must prevail, and in order for enthusiasm to strengthen the energy of love, like-minded partners must come together. Since we wanted to expand hospice services, we could not just respond to people who were interested or merely cooperated with specific departments. To have action carried out quickly, we needed fast top-down promotion with the full support of the hospital's senior management. 
As a result, the Foundation changed its strategy and quickly drafted a contract hospital system. As long as a hospital signed a cooperation agreement with the Foundation, not only could it receive subsidies for personnel training and social resources from the Foundation, but it could also receive support related to specialized software and hardware equipment. 
Although there were quite a few incentives, it was still rather difficult for hospitals to be willing to invest in a service that was very likely to be profitable, keeping in mind these were the days when health insurance had not yet been implemented and hospice could not help earn extra credits in one's career evaluation. Hence, the most urgent task was to let the hospitals know what hospice was about. The Foundation firmly believed that only through understanding could there be agreement. 
Subsidies, Education, and Exchanges Deepen Partnerships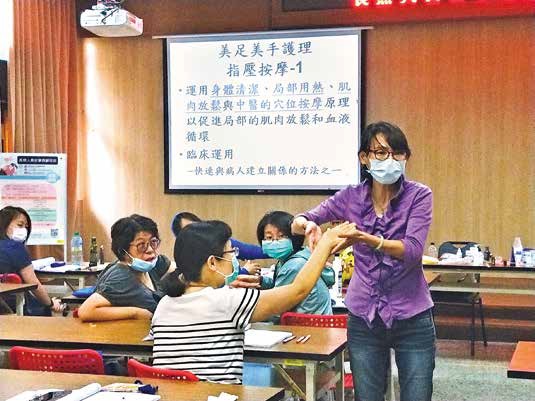 During that period,the Foundation team visited almost every corner of Taiwan. At the very beginning, they faced closed doors from time to time, but gradually, they gained recognition and support. Some  hospitals even consulted and cooperated actively. Lai Yun-Lang still remembers that Geng-Xin Hospital was the first to respond, followed by NTU Hospital: "We are still very grateful to these hospitals. They are not only partners,  but also a great force to drive the Foundation to move forward." 
In 1992, the Foundation formally signed contracts with 11 contract hospitals. In the initial stage, the foundation generously donated to equip their hospice wards with relevant hardware equipment. The cost should not be underestimated. For  example, a bathing machine easily cost 1 million New Taiwan Dollars (NTD), and the most effective pain relief machine, Patient Controlled Analgesia (PCA), cost more than 10,000 NTD. Most of these instruments had to be imported from abroad, which put a lot of pressure on the fund at that time, but the Foundation fearlessly headed forward.  
After the hardware was ready, the software had to be upgraded also. To improve the expertise and quality of clinical care, the Hospice Foundation organized a series of education and training courses and invited the first-line hospice personnel of contract hospitals to improve their relevant knowledge and skills. It also planned a body-mind integration workshop to establish a cross-agency connection to support hospice partnerships. As the courses organized by the Foundation became more refined, the cost  increased. Even so, the Foundation focused not on the finances, but strived to develop even more helpful courses. 
As long as students could benefit from them, it  was worth continuing despite the costs. The important mission of Taiwan's hospice  education and training has since been the Foundation's unshakable responsibility.