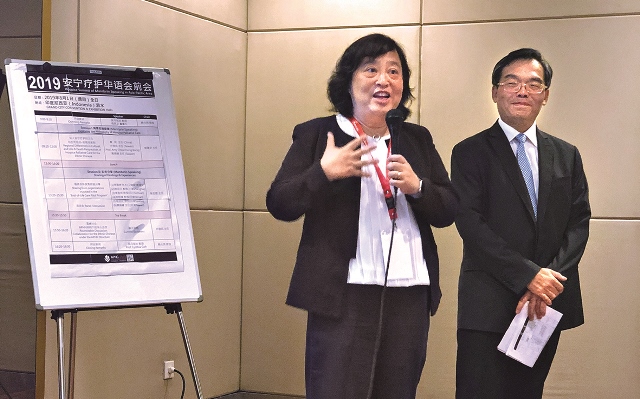 Not only does Taiwan offer thoughts about itself and for the future, but Amy Chow, a professor with social
work background, also shares the palliative care challenges which Hong Kong is currently facing. She explains, "Palliative care in Hong Kong began in 1982 and has been progressing for 37 years now."
Furthermore, Hong Kong's palliative care began in the British colonial Catholic hospitals and slowly expanded to other medical institutions. Although it started out early, it was only until 1992 that it gradually flourished.
"That was the year when I started working," she says. Working in the field of palliative care for many years, Amy admits that her beginning knowledge came straight from textbooks. She still remembers the first time  she led students into the medical institute for palliative care as a supervising professor of students, and how she had no relevant experience. Since then, she has realized one can only truly learn from doing. Because she saw this societal need, she courageously decided to continue.
Amy also recalls in her early days of palliative care, how she once met a pair of siblings in the hospital. The younger brother was a 30 year-old physics teacher who was at the terminal stage of liver cancer. Amy discovered that although the sister visited him at the hospital every day, the two did not speak at all.
Whenever the brother lies in bed, she would be sitting close by without saying a word." One day, when the brother was absent, Amy went to talk to the sister, who immediately burst into tears. Amy says, "She [the   sister] felt very guilty towards her brother because he loved literature but she had forced him to study physics. He was even held back a year once because of that decision. She thinks that this made her brother very unhappy and was the cause of liver disease. She felt very guilty for this, but does not know how to confess."
Later, Amy also talked to the brother alone, and told him about his sister's hidden guilt. The brother was shocked and told Amy, "No, it's my fault. My sister quit school young to work and supported us in education. She also helped me make good decisions, including the opportunity to teach physics. I am proud of myself."
After understanding the confused yet caring hearts of both, Amy started a heart-toheart dialogue for the siblings so that the sister could be relieved of her guilt. Soon after, when Amy passed by their ward, she  occasionally heard lively conversationcoming from the room.
Conversation Limited in Chinese Society - Learning from International Cases
"Hospice is not just to treat the bodies, but also to appease the hearts," says Amy. Since realizing this, she has been promoting related concepts in Hong Kong. However, she also realizes that the traditional thinking of Chinese culture slows down progress. "Many Chinese, especially older patients, are not used to talking about this topic, so we have to use various tactics and to include the family members to participate."
Besides accumulating knowledge within ourselves, Amy also believes that the successful experience of overseas countries has provided great help in the development of palliative care in Hong Kong. Especially in this APHC conference, she has seen many different possibilities.
Amy notes, "Every country makes different discoveries. Most developing cities emphasize clinical care, but mostly Chinese regions, such as Taiwan and Singapore, are more focused on psychological communication, especially how family members communicate and talk." On the other hand, she also observes that palliative care of non-cancer patients has gradually become a new trend. "This conference has lecturers who discussed patients with Alzheimer's disease and long-term kidney disease in palliative care. This is something that Hong Kong must learn from."