Taiwan, Australia, Singapore: Building a Care Support Network
Under the impact of an aging society and the pandemic, hospice and palliative care face many new challenges. To better face these challenges, Hualien Tzu Chi Hospital held an online international seminar-- Hospice and Palliative Care for the Elderly in the COVID-19 Pandemic--inviting experts from Taiwan, Australia, and Singapore to share their experiences and to find ways to weather the impact of the pandemic.
For many elderly people, the long-term care institute is their second home. Here they have the emotional companionship of roommates who are close in age, and the physical support of nursing staff and caregivers. According to the latest statistics from the Ministry of Health and Welfare in 2020, there are 1,078 longterm care institutes in Taiwan, which care for over 52,000 residents.
Take Hualien for example. Presently, there are 21 long-term care institutes. Among them, 15 are receiving hospice care services from Hualien Tzu Chi Hospital, accounting for 71%. "In clinical care, we will provide long-term care institutes with a practical and psychological support network," said R.N. Chun-Chun Chen, a home care nurse at the Heart Lotus Ward of Hualien Tzu Chi Hospital.
For example, through the Internet, video-conferencing, LINE groups, and so forth, 24-hour consultation channels are provided to assist the institutes in dealing with and controlling symptoms. At the same time, on-the-job education is arranged for the institutes to empower the caregivers. When residents pass away, there are also grief care and assessment courses to give institute staff psychological support.
PSY. Tan Hsiang Chi, a psychologist in the Heart Lotus Ward at Hualien Tzu Chi Hospital, said that these courses are not only aimed at Taiwanese partners, but also involve foreign caregivers who shoulder the major responsibility of first-line care. "In the hospice institute's All-Five Complete Care policy, foreign caregivers are treated like members of the resident's family because they also need to be cared for themselves.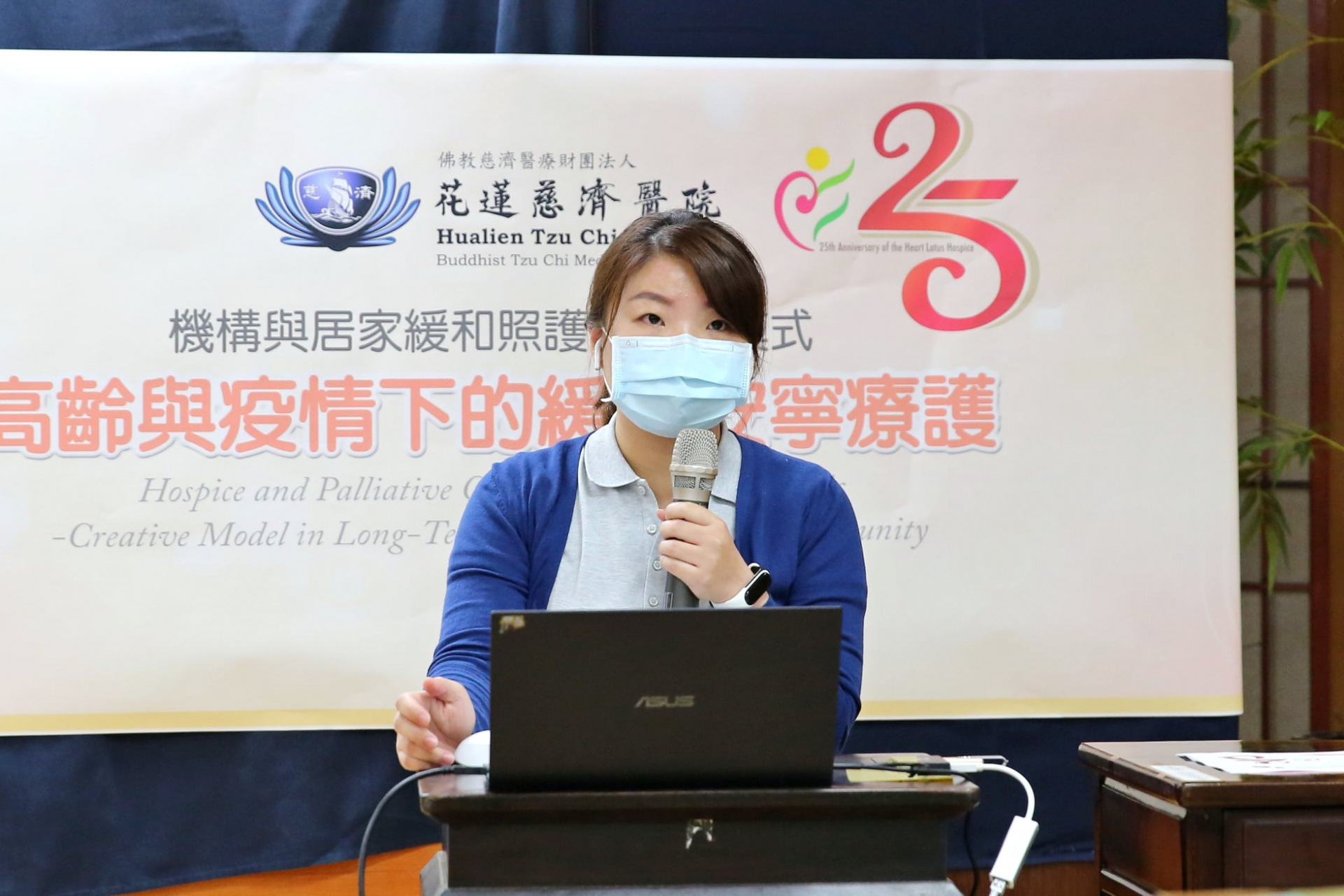 Good Death in the Institute: Experience the Warmth of Home
Another important topic for long-term care is to let the elderly pass away in a familiar "home." Since 2013, 420 cases have been admitted to long-term care institutes by Hualien Tzu Chi Hospital. 301 of them have passed away, of whom 95% have been in institutes. "This made us think: Is it really possible to have a good death in an institute?" R.N. Chun-Chun Chen said.
As a result, the team began to actively help patients to realize their wish so that their lives can be brought to a satisfactory conclusion. Over the past few years, there have been more than 50 dream-come-true cases. Take for example, the elderly man who was in a very poor physical condition, but suddenly desired to go to his favorite beach. Accompanied by his family and the team, this man arrived at the beach, took off his shoes, and walked on the ground barefoot. He then bid farewell to his favorite land, and returned to the institute. That evening, he passed away peacefully.
It is not only the elderly who live in the institute. R.N. Chun-Chun Chen has also accompanied a physically and mentally disabled child through his final journey. On weekdays, she would take her son to play with him. This sick child had stayed in the institute since he was born and had never seen the outside world. So she took him to experience riding a train and going to an amusement park to watch animals. After the child passed away, together with the institute, they held a memorial service and a tree burial. "Thanks to the partners in the institute, the terminally ill patient was able to enjoy the warmth of home during the last leg of his life journey."
The Healing Power between Children and Animals
Long-term care institutes are like miniature communities. H.N. Chia-Hui Huang, chief nurse at Xiangyun Long-term Care Center for the Elderly, pointed out that the concept of compassion and caring for the community can be used to create a place to help residents in institutes to quickly find the focus of their life and form a humane and warm environment. In addition, the asset-based community development model insists that everyone in the community has talents and skills. "What we need to do is explore each person's field of expertise, make good use of the resident's talents, and turn them into assistant caregivers."
For this purpose, Xiangyun Long-term Care Center for the Elderly has developed d i fferent practices. For example, small animals such as cats, dogs, and rabbits are kept in the institute. Each animal has a group of fans and has become the focus of life for the elderly. As for the elderly women with cooking experience, a gourmet club was set up to help them find common discussion topics and take part in social interaction through teaching and passing on their cooking tips.
Xiangyun Long-term Care Center for the Elderly also established the Children Volunteer Group, which invites members to bring their children to the institute to do simple service work assignments, and thus create a model of integration between the old and the young. Eventually, even the children's classmates and the residents' families and their children joined this group. "The innocent smiling faces of children are a powerful therapeutic agent for the elderly. This love will be passed on and is contagious." In 2020, Xiangyun Long-term Care Center for the Elderly further established Suspenders Healing Bunny Club to put into effect the healing power of children and animals. This club also visits other long-term care institutes, community bases, or hospitals, and have served more than 20 sessions, totaling over 300 people.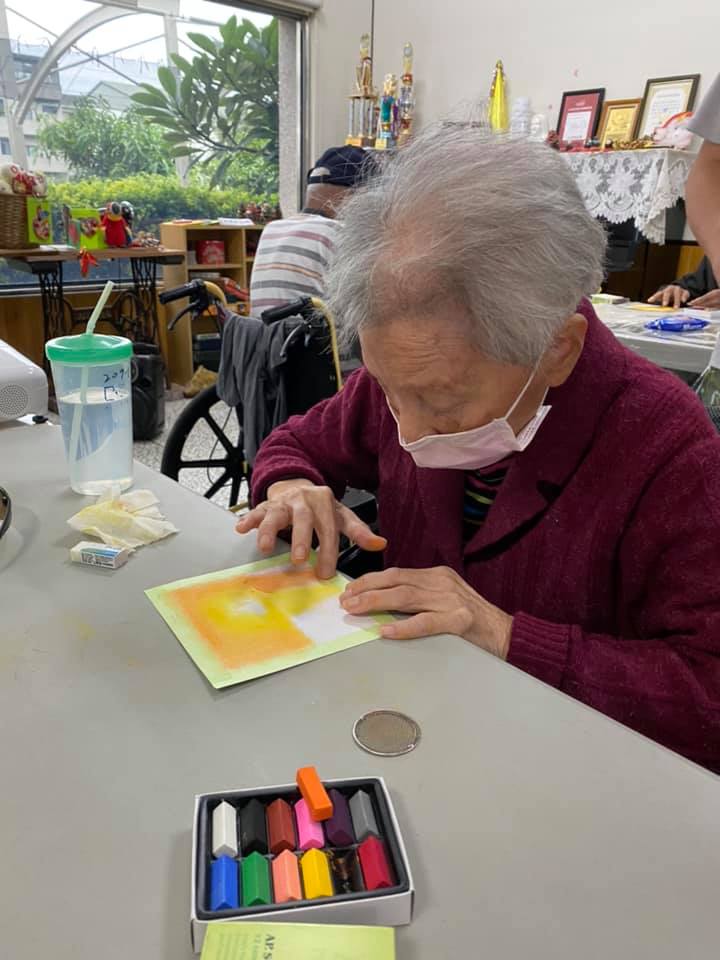 Establish Quality Monitoring for Hospice and Palliative Care
Why is hospice and palliative care so important for long-term care institutes? Dr. Claire Johnson, a professor at University of Wollongong in Australia, shared an Australian perspective. In Australia, each year about 60,000 people die in longterm care institutes for the elderly. Among them, 38% passed away a year after they were admitted and 19% within three months. "Therefore, long-term care institutes need to provide care for the dying to meet the rising care needs and complexities."
Australia's Specialist Palliative Care includes a multi-specialist team with professional skills, experiences, and palliative care training. Johnson pointed out that the professional palliative care in long-term care institutes in Australia almost entirely conducts Inreach service, which is a multiple model of palliative care. One of its purposes is to plan and support palliative care as early as possible.
In the Need Rounds of Inreach, the nursing staff of the long-term care institute will have a 60-minute triangle meeting with professional palliative care staff to discuss about 10 residents who are most at risk of death, review their symptoms and treatment, psychological and social support, ACP, and so on. "Triangle meetings are regarded as an opportunity education on a case-by-case basis."
In order to improve the quality of hospice and palliative care, the Australian government has established Palliative Care Outcomes Collaboration (PCOC). "This is an evaluation and response framework that introduces clinical care outcome measures into daily practice. PCOC is not a collection of data. It is to promote the effectiveness of patients and caregivers at the service level," explains Dr. Johnson. According to statistics, after the implementation of PCOC, the quality and effectiveness of care have been significantly improved. Based on PCOC, the Palliative Aged Care Outcomes Collaboration (PACOC) has also been developed for the care quality of elderly patients to assist institutes to meet the national care standards for the elderly.
Hospitals and Institutes Work Together in Five Links
In the face of the medical pressure brought about by the aging population, among the six priorities for the medical system in Singapore's government, the sixth is "to establish competent primary care and care partners in the community." Dr. Laurence Tan Lean Chin of the Department of Geriatric Palliative Care Services at Khoo Teck Puat Hospital in Singapore pointed out that the Ministry of Health in Singapore initiated the palliative care program GeriCare Palliative Care Program in 2020 to assist the nursing home staff to improve their knowledge, skills, and techniques in hospice and palliative care, and to create a cooperative network of medical professionals to jointly support nursing home. "GeriCare not only helps nursing home patients and improves their quality of life, but also reduces the use of hospital resources."
Since 2010, Khoo Teck Puat Hospital has cooperated with eight nursing homes. There are five major links in the model of hospice and palliative care. The first is education (Educate), in which training courses are offered to enhance the professional ability of nursing staff in the nursing home. The second is teaching (Percept). Courses alone are not enough; the chief nurse has to enter the nursing home to work as a mentor and teach nursing care knowledge, through practice. The third is intervention (Intervene). Response to the nursing problems should be promptly given, and phone calls can be made for consultation at any time. The fourth is communication (Communicate), which encourages nursing staff to discuss ACO with patients and their families. The fifth is Telemedicine, such as remote consultation, remote training, and etc.
Since training is time-consuming, to teach more people with limited time and resources, Khoo Teck Puat Hospital adopts the All, Some, Few approach. "Courses to be taken by all or most, or some need to be classified clearly," says Dr. Laurence Tan Lean. Since last year, the hospital has also begun to play relaxing and humorous animated short films to make professional knowledge of hospice and palliative care more approachable.
Multi-pronged Approach to Initiate Pandemic Response Measures
The impact of the pandemic also brought considerable challenges to palliative care, especially the home care for patients. Dr. Yee Choon Meng, a physician from Singapore's Dover Park Hospice Homecare Service and Tan Tock Seng Hospital, shared their contingency measures launched during the pandemic.
Since the pandemic surged last year in February, in addition to masks, personal protective clothing, and other basic equipment, the home medical service team has had to take body temperature twice a day and report it. Everyone has stopped taking annual leave to cope with the possibility of insufficient manpower. In order to avoid cross-infection, the team was divided into two groups, taking turns returning to the office every other week, while the rest of the staff worked from home. They met via video-conferencing and planned schedules, going back to the office to replenish the medical supplies needed.
Dr. Yee Choon Meng said that one of the most important measures is the home visit. Before going to the patient's home, the team will conduct a telephone questionnaire survey, asking if there are infected or quarantined patients at home, and whether anyone has a fever or symptoms of respiratory disease, and etc. Through the questionnaire, visit risk is determined so that the medical staff can take correct pandemic prevention measures. He revealed that a member once ignored the questionnaire survey, and it was not until he arrived at the patient's home that he realized a family member was a flight attendant, who had just returned home from abroad. He then quickly put on personal protective equipment to be safe.
Under high pressure from constant work, the medical staff needed to adjust their mental health. Through daily group video meetings, the team shared the problems and pressures of home visits, and discussed serious cases once a week. "Members' mutual support is very important and it is of great help to the team."
Cicely Saunders, the mother of hospice, once mentioned, "The deep memory of how a person passes away will be remembered in the heart of the living." Although we cannot prolong life, we can make him live more meaningfully. How to help terminally ill patients finish the last part of their life journey with dignity not only tests the wisdom of each caregiver but also is the meaning of hospice and palliative care.