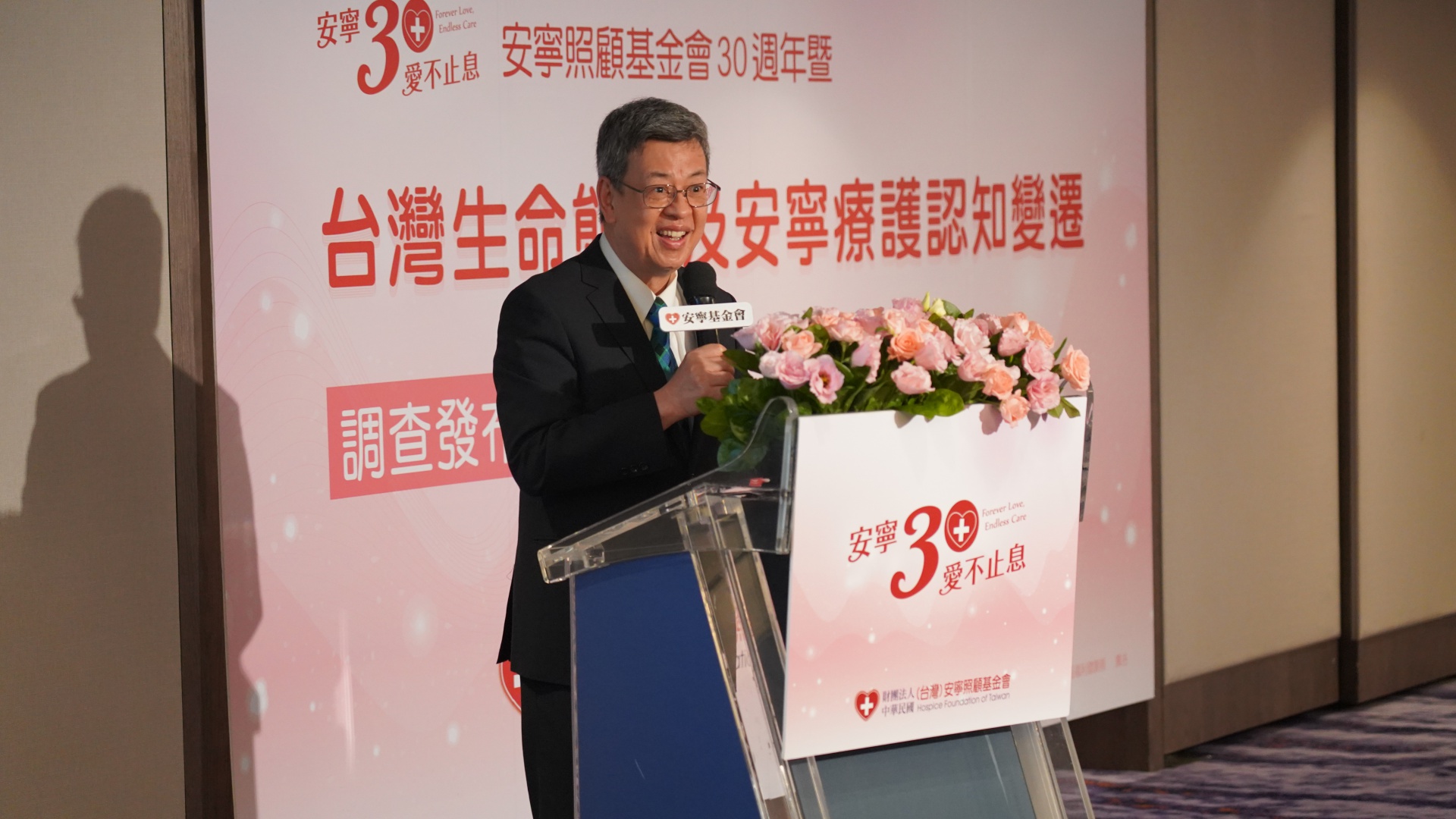 Hospice and palliative care has been taking root in Taiwan for many years,and society's perceptions of life and death have changed drastically. Hospice Foundation of Taiwan ("HFT") today released the results of a survey and found that Taiwan's traditional mindset of "saving a life at all costs" has been reversed. Compared to the past, people's perception of life and their awareness of hospice care have significantly improved, and the older the elderly, the higher the degree of acceptance of hospice care.
On the afternoon of October 6, HFT held a press conference at Sheraton Hotel to mark its 30th anniversary. In addition to releasing the survey results of the Taiwan Life Attitudes and Changes in Awareness of Hospice and Palliative Care, it also invited former Vice President and Academician of the Academia Sinica, Chen Jian-Ren, and Director of Health Promotion Administration Wang Ying-Wei to deliver speeches at the meeting.
In the press conference, former Vice President Chen Jian-Ren mentioned that when he served as Director of the Department of Health, he had initiated hospicerelated health insurance benefits. During his tenure as HFT Director, he was more exposed to hospice and palliative care and participated in hosting the 2015 Asia-Pacific International Conference on Hospice and Palliative Medicine. He realized that hospice care was a rather difficult job, taking care of patients as a whole person to the end of life while being joined with the whole family, the whole medical team, and the whole community. He especially thanked HFT, which has the longest history for the development of hospice care in Taiwan. He further commented that when each elderly or seriously ill patient is facing the end of life, HFT can accompany them well in facing the transition of life to a better eternity.
Wang Ying-Wei, Director of the Health Promotion Administration, became involved in hospice care more than 20 years ago, starting with his participation in many domestic and foreign learning courses for professionals provided by the HFT. According to the HFT survey, it appears that people in Taiwan have grown substantially in terms of hospice care and death awareness. This is exactly one of the reasons why in the 2015 evaluation of the quality of global hospice medicine done by the British Economist magazine, Taiwan leapt to #6 in the world's rankings and #1 in Asia.
Yang Yu-Zheng, HFT Chairman, said that this year happened to be HFT's 30th anniversary. He was grateful to many predecessors and hospice partners for working together, and he expected that HFT will once again pursue the ideas and enthusiasm of the predecessors in the next decade, never forgetting the original intention. HFT conducted three surveys on Taiwan Life Attitudes and the Changes in the Awareness of Hospice and Palliative Care in 2000, 2009, and 2018, hoping to learn from the past and consider the next step in Taiwan's end-of-life care.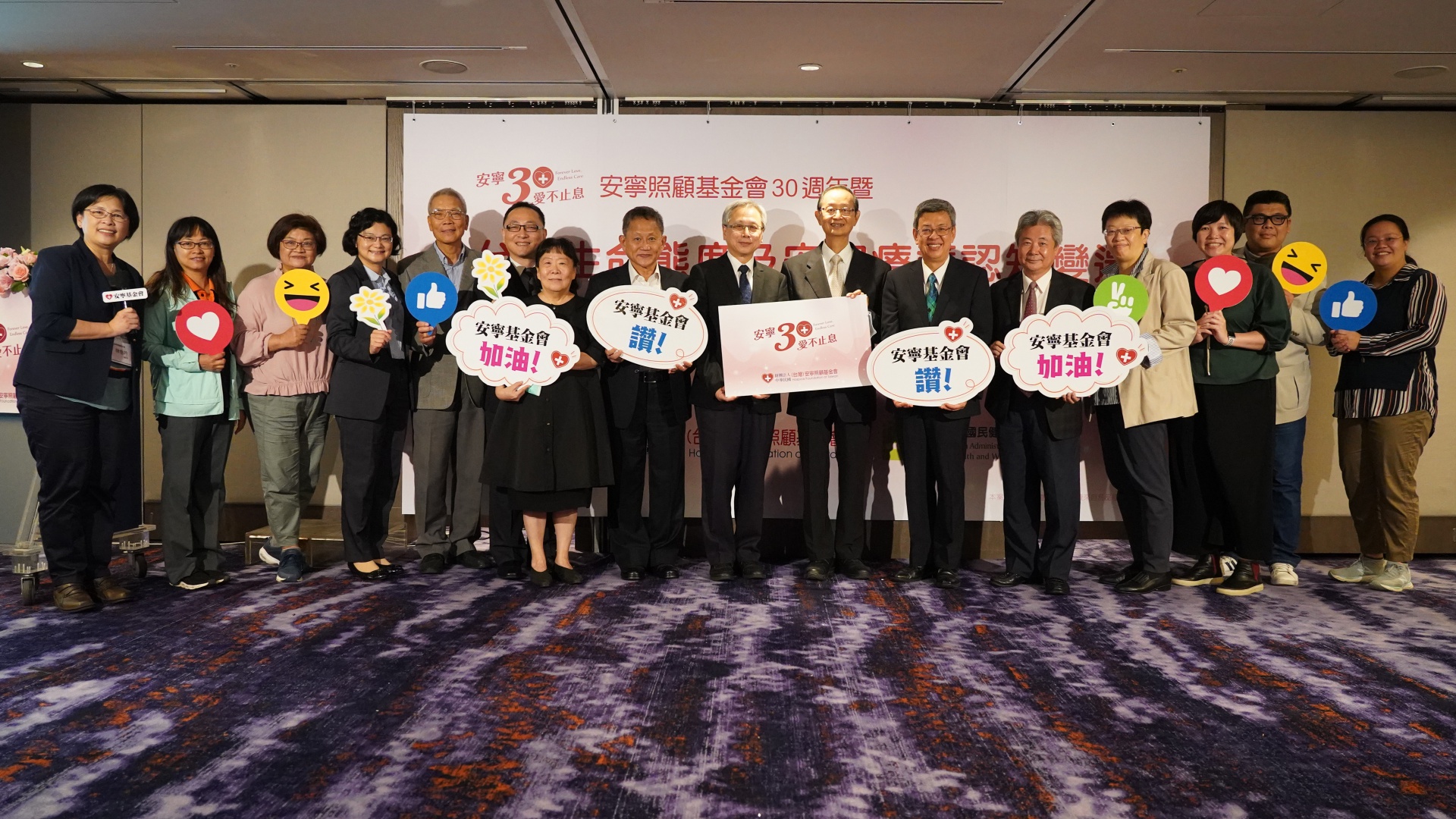 Taiwanese Are Increasingly Facing the Issue of "Death"
Li Xin-Yu, Director of Viewpoint, said that the latest survey results point out that Taiwanese people's levels of concern for death issues, the need for disease notification, and the recognition and awareness of hospice care are all higher than 10 years ago.
According to the survey results, most people in Taiwan hold a positive attitude towards life, and more and more people in Taiwan no longer see it as a taboo to think about and discuss the subject of "death." For example, consider the Patient's Right to Know Act. It can be seen from the survey that the percentage who responded affirmatively "Yes" to the question "If parents suffer from terminal illness, should they be directly informed?" has risen significantly from 55.8% to 72% over the past 10 years. In terms of age, more than 80% (82.6%) of the younger generation (20-29 years old) approve of direct notification, the highest percentage among the different age groups. This shows that Taiwanese people are paying more attention to the autonomy of themselves or their family members, and they no longer avoid talking about death in daily conversation.
Nearly 70% of Taiwanese Select "No" for Emergency Treatment of Dying Terminal Patients
As for the emergency medical care of terminal patients prior to death, 68.5% of the people think it is not necessary. This willingness to refuse resuscitation also increases with the age of the respondents, especially people over 40 years old, whose percentage is more than 75% (75.6%).
When it comes to the end-stage medical hospice and palliative care, 77.4% of the respondents knew about hospice care before the survey, and up to 73.5% are in agreement of it. Among them, be it the awareness or the recognition of hospice care, the highest percentage is also of those over 40 years old, with 81.7% in awareness and 77.6% in recognition respectively. Various data can show that the end-stage non-emergency treatment and hospice care have generally been recognized by the Taiwanese, and they are more willing to consider hospice care and have discussions sooner about it.
97% of Taiwanese Agreed to Make a Will but Nearly 60% Did Not Take Action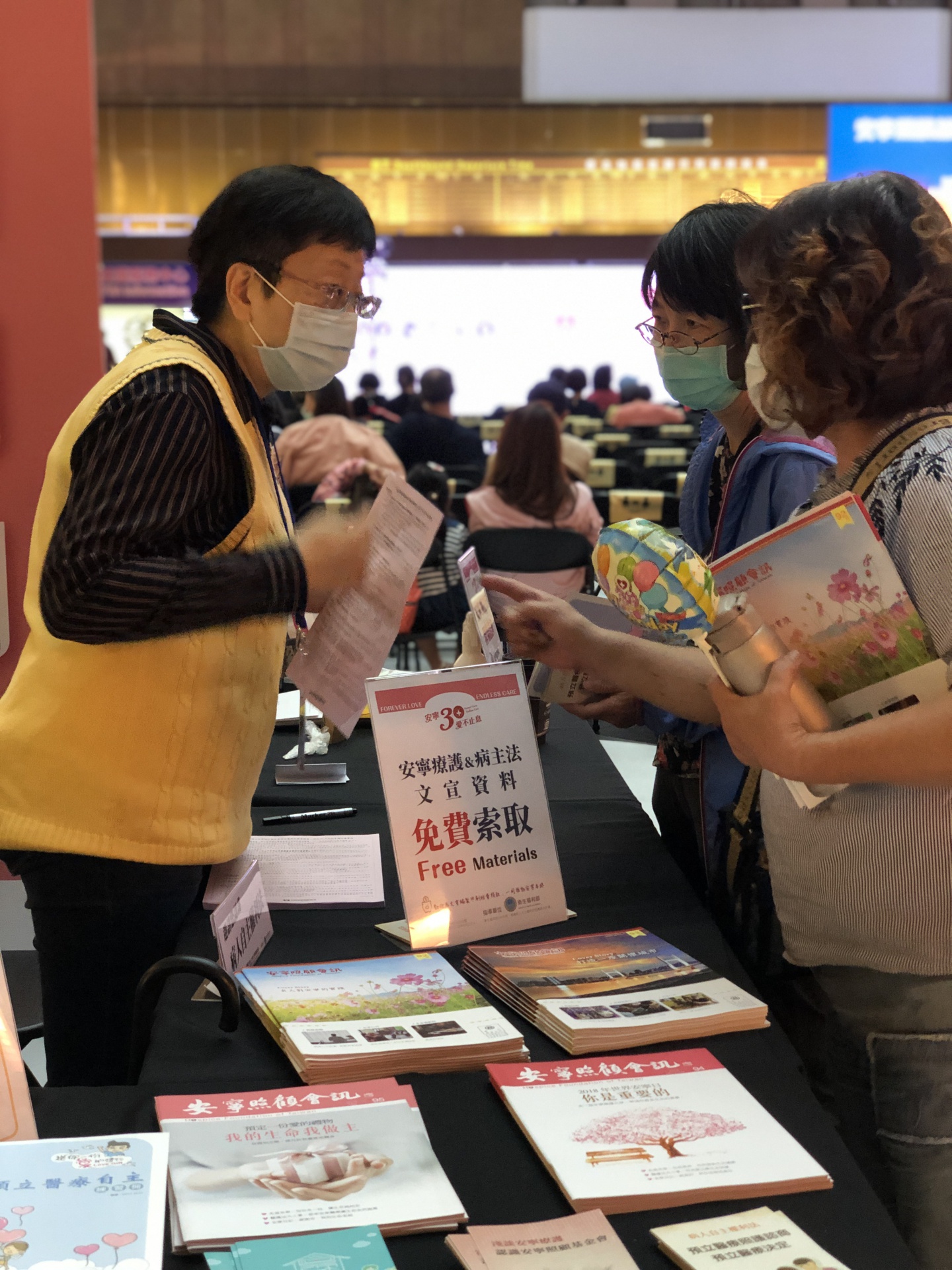 The survey also indicated that although the public's concern for death issues has increased compared to 10 years ago, more people have thought about the predictable life expectancy if they are seriously ill, and nearly 50% (47.5%) of the respondents hope to make their own plans for the remaining days. However, the percentage of people who think they are ready to accept death has decreased (43.3%).
To further clarify the public's understanding and attitude towards death, HFT launched an in-depth qualitative investigation in July 2020. Through many small group discussions and sharing, it was found that people often needed opportunities to hold discussions related to the topic of death with their relatives and friends. Almost everyone agreed to make a will (97.7%), but nearly 60% did not take any action.
As for how to help these people take action, the survey indicates that more publicity through different story-telling could help people to think about it more, while finding ways to minimize the embarrassment of not knowing how to start the conversation. All this can effectively open discussions and implement their ideas into action.
Hospice 30 Series of Activities Begin with Intention to Ignite Discussion Opportunities
Since the establishment of HFT, every effort to promote the concept of hospice care and dying well has been made. This year marks its 30th anniversary, and once again, jointly with World Hospice Day (10/10 this year), it held a two-day film exhibition on 10/10-11 at the Taipei Main Station Hall. With two major themes, six films, and post-screening discussions with celebrity experts, HFT warmly invited the public to take part in the grand event during the holidays. Through film festivals and seminars, it guided people to understand the quiet social revolution advocated by HFT over the past 30 years in the hope to arouse their attention to the end-stage medicine and the basic human rights of dying well. 
In addition, HFT held an online "Instawish Limited Time Wishing Wall event, in which 10 real-life stories were filmed into 10 moving videos. These meaningful time-limited dynamics, which had to be completed in a very short time with hospice patients, demonstrated the value and significance of hospice and palliative care. HFT hopes that these videos will encourage society to think about and discuss life and death more often.