Taiwan's aging population and changes in society have become challenges that need to be overcome at this stage through the implementation of long-term care facilities to provide for the elderly and local hospice.
For this purpose, the Hospice Foundation of Taiwan has been offering hospice and palliative care courses for long-term care institutional personnel since 2013, as well as introducing hospice and palliative care in these institutions; thereby, a diverse model of long-term care and wellbeing has been established.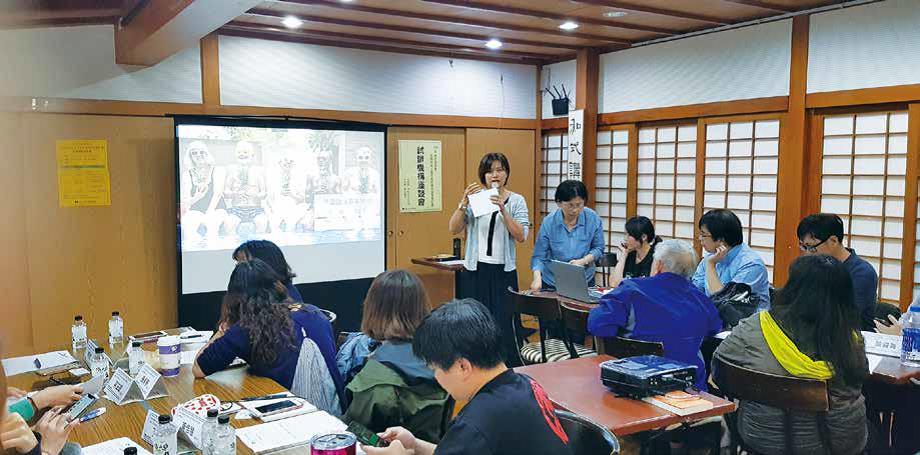 Mr. Chen, who suffers from many chronic diseases, has been staying in a longterm care institution for many years. As his body functions gradually decline, he is likely to have a high fever due to even a slight cold or infection. As such, the caregivers of the institution dare not neglect any symptoms, and often notify
his family immediately and send him via ambulance to the emergency room for medical treatment.
After Mr. Chen is discharged from the hospital, he returns to the institution to recuperate. However, it doesn't take long for the same infection, fever, and medical treatment to recur. Not only do the institution and his family feel exhausted by this, but Mr. Chen is also tortured by the tiring commute. Having long regarded the institution as his home, Mr. Chen hopes to complete the last journey of his life with dignity in the familiarity of the long-term care institution; unfortunately, he can't help but worry about the torment of repeated commutes to the hospital. He questions, "Next time I go to the doctor, will I suffer and pass
away in the chaos of the medication and first-aid equipment? All I want is to leave peacefully as I drift off sleeping in a familiar environment!"
The Advent of an Aging Society
Long-term Care Institutions: a New Option for the Elderly
Aging is a necessary path for everyone. With Taiwan's aging population and declining birthrate leading to changes in the social structure, living peacefully in a long-term care institution for their remaining years has become a new consideration for many people.
In the early days, most people who stayed in long-term care institutions were disabled or chronically ill. However, owing to the change in the family structure, an increasing number of people under the age of 65 were admitted to long-term care institutions while they were still able to take care of themselves. For those who had an average remaining life of 10 or even 20 years, the long-term care facility can be said to be their home for the second half of their life, and even the place where they expect to die peacefully.
Most elderly people suffer from multiple chronic diseases at the same time. As the concept of hospice care gradually spreads, in the process of finding it difficult to anticipate the end of life due to the chronicity of the disease, more people expect to reach the end of their lives with dignity, including without excessive unhelpful medical treatments. However, the introduction of hospice care in long-term care institutions and the expectation of helping residents to die well are facing many challenges.
Of the difficulty in promoting long-term hospice care, the Director of the Hospice Foundation of Taiwan Liu Jing-ping explains, "Most long-term care institutions are afraid of taking care of terminal patients, not to mention the full introduction of hospice care."
Understandably, there are reasons for this fear. For one, when residents are at their last stages due to illness or aging, the caregiver's ability of symptom management and skills may be insufficient, not to mention the need to overcome the psychological pressure of the residents, their families, and colleagues. For another, the institutions worry about differences in the understanding of hospice care between them and the residents' families, which could lead to possible disputes or even lawsuits.
Lin Yi-yin, CEO of the Hospice Foundation of Taiwan, elaborates, "Patients pay to stay in long-term care institutions; therefore, many family members think that 'Since I am paying you, you have to take good care of my loved ones. How can you let them die without making every attempt to save them?' And when the residents do die in the institution, disputes often arise." CEO Lin also explains that although the promotion of hospice care has progressed, there is still a gap between perception and implementation. Because families wish for their loved ones to continue living and the institution is not willing to take risks, even if the patients want to die in the institution, it is still the safest option to seek medical treatment in a hospital should any physical ailment arises.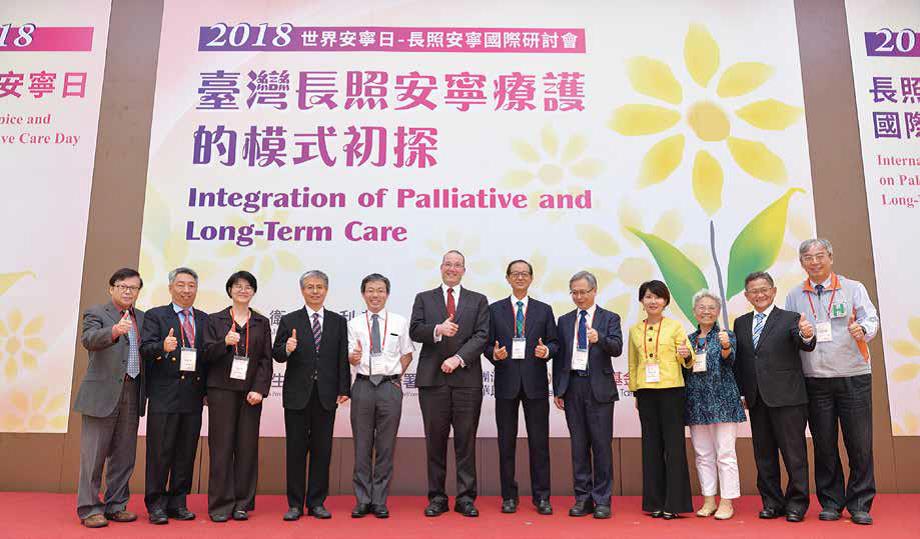 Acute Symptoms Are Difficult to Deal with so Send Patients to Hospitals to Avoid Disputes
To promote long-term hospice care, the Hospice Foundation of Taiwan has visited the long-established Catholic institutions in the remote areas since 2013. Through actual interviews, we are familiar with the situation and challenges of promoting long-term hospice care. Lin Yi-yin states that it is a very natural process for long-term care institutions with a religious background to talk to the residents about issues such as dying well, and life and death. These types of institutions will accept the poor elderly referred by the government at public expense, take care of them until their death, and even assist with their funerals. As such, these institutions can be said to be pioneers in promoting hospice to long-term care facilities.
Liu Jing-ping, who once served as nursing director of hospice wards, said that based on her past clinical experience, what nursing staff in long-term care institutions usually fear most is dealing with the pain and care of terminally ill residents. However, in recent years, when she began promoting hospice care in long-term care institutions, she has observed that many institutions already have the ability to provide basic comfort care, but if residents are to receive more specific, personalized care, the institutions still need to rely on more practical instructions and practices.
As for the problem of pain, at this stage, due to the improvement of medical treatment and concepts, it is no longer a problem of care. However, when the residents have acute symptoms such as fever and shortness of breath due to infection, the institutions will still choose to send them to the hospital due to the difficulties involved. This pattern repeats itself also for dying residents, whose healing process is deterred due to physical and mental overload. At this time, what is needed is the intervention of hospice and palliative care.
To introduce the hospice mechanism in long-term care institutions, there are two key problems to overcome. One is for the promotion of the concept of hospice care and dying well to the institutional personnel and the residents' families so as to resolve the disputes caused by the lack of knowledge. The other is for the longterm care institutions to integrate hospice and palliative care resources of medical institutions so that when residents have acute symptoms, the medical institutions can assist the long-term care institutions to handle them themselves.
Entering the Institution
Teaching the Concept of Hospice through Clinical Guidance
After preliminary understanding of the concerns of long-term care institutions, in 2014 the Hospice Foundation of Taiwan held long-term care and hospice promotion seminars in the northern, central, southern and eastern regions of Taiwan. Long-term care institutions from across the island were invited to participate and discuss the problems and solutions of long-term hospice care.
At the same time, the Foundation started long-term care and hospice promotion lectures, courses, and workshops, and invited experts onsite to teach institutional personnel regarding professional nursing skills, such as caring for edema, cancer bone metastasis, and etc. Additionally, the experts related the concept and knowledge of hospice care to match the institution with the medical organizations that have a hospice care team.
For long-term care institutions, it is no easy task to commit to promoting hospice and palliative care. Many have retreated because even after in-depth understanding and evaluation, they believe that besides the need to change nursing care habits, hospice care necessitates in-depth communication with residents and their families by providing meticulous psychological or spiritual care.
Liu Jing-ping notes candidly that the keys for a smooth development of longterm hospice care include long-term institutional managers having the correct knowledge and sense of hospice mission care, and willingness to be involved regardless of the costs.
To assist in the promotion, the Foundation has facilitated in the central roles of communicator and coordinator in recent years, actively communicating with managers, introducing resources such as education and training courses, and providing hospice and palliative care in medical institutions to help improve the quality of care. As a result, high-quality care institutions already with basic hospice and palliative care have established a good reputation, and their occupancy rates remain high.
According to Lin Yi-yin, "Long-term care institutional staff needs to have hospice expertise so as the medical team teaches nursing skills, the managers, caregivers, and nursing staff of long-term care institutions can internalize the concept and knowledge of hospice care in their daily work–this will allow them to better perceive residents' view of life values and guide the residents and their families to discuss, think, and finally, achieve the goal of dying well. And even if some institutions withdraw due to different external factors, we still believe that, like how the predicament of promoting hospice care was overcome 30 years ago, the seeds that are sown today will blossom and bear fruit in the future."
Liu Jing-ping comments, "Hospice and palliative care should derive from respect for people, pay attention to everyone's willingness and life value for medical care, and shift the vision of care from the illness to people. Aging is irreversible, and as long-term care institution residents head toward the end of life, respecting life involves not only proper care but also the understanding of their inner thoughts about life, which includes treatment methods, choices regarding first aid, places of death, and etc., so that everyone has the right to die well.
Establishing a Benchmark Institution
Making a More Comprehensive Hospice and Palliative Care Network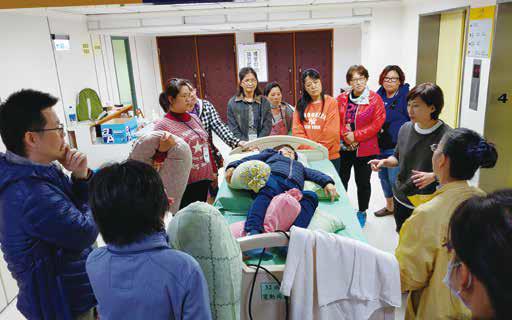 The quality of hospice care in Taiwan is obvious to the world. Hospice wards, shared care, and home care have already established a comprehensive hospice care network. However, such a network is currently limited to the hospital system, and as the super aging trend continues, more people are in urgent need of hospice care in the community.
Liu Jing-ping points out that the current hospice home care team in medical institutions is short on staff. The care for patients at home has been quite timeconsuming, and if the needs of long-term care institutions for hospice care are taken into account, the staff members can only either offer what little time they have remaining from their tight schedule or offer time from their regular days off. Therefore, if the terminally-ill patients in the long-term care institution can be included in the long-term care policy, then the medical end would be able to initialize community hospice and palliative care. In this way, the long-term care institution can obtain the resources and support from the hospital, and the hospital can also help transfer the patients when they are discharged from the hospital. The institution provides continuous care, complementing the hospital to create a comprehensive hospice and palliative care community network to prepare for the coming of the super aging society.
To this end, the Hospice Foundation of Taiwan will continue to provide relevant courses to introduce the hospice mechanism into more long-term care institutions. In the future, it is hoped that by establishing a benchmark institution as a demonstration site for long-term hospice care, more long-term care institutions can observe and learn from it. As Lin Yi-yin concludes, "Long-term care institutions come in many forms, and long-term hospice care will not have only one model. As long as we are willing to promote hospice care—regardless of the size of the organization and the completeness of the equipment—we should be able to find the most suitable introductory model for each and every situation."