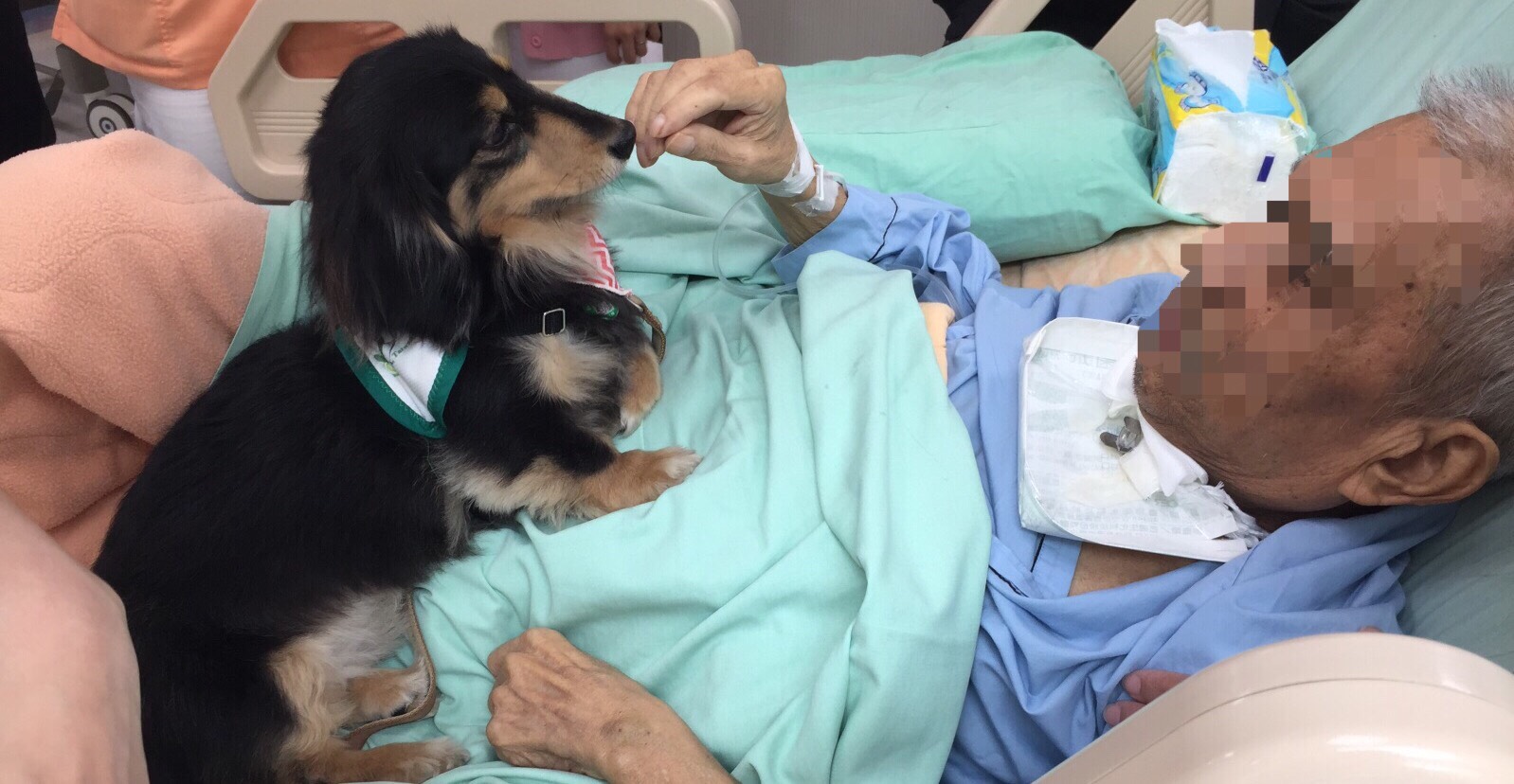 Two special doctors named Harmei and Jason visited hospice wards of Mackay Memorial Hospital on March 8, spending a very pleasant hour with the patients and their families.
Harmei the giant Poodle and Jason the Dachshund are therapeutic dogs specially trained to interact with patients. They are friendlier than normal dogs, highly sociable, stable, obedient, and can interact with patients under a trainer's guidance. Although patients stroking and combing therapeutic dogs may seem like insignificant gestures, such gentle and relaxed activities can significantly ease patients' tenseness and boost patients' physical energy. Simply by looking at Harmei and Jason's happy faces, patients and their families also reflect happy and rare smiles on their own faces. Even the palliative professionals can be healed by these two furry doctors!
Animals have been known to make people happy for centuries. In the past three decades, many western countries have started to use animals in supplementary medical roles. According to clinical research, such "companion animals" can distract patients' 
attention to pain as patients stroke and talk to the animals, thereby easing their emotions and providing benefits such as: stabilizing triglyceride, decreasing cardiovascular diseases, and minimizing other neurological symptoms, like headache and insomnia.
The American Heart Association has published research showing how dogs bring comfort and sooth heart disease patients. In fact, when patients are visited with therapeutic dogs, their anxiety and adrenaline levels are low and their heart and lung functions are improved as well. Hence, pet therapy is mainly applied to patients with chronic disease, mental illness, developmental delay, and hospice care.