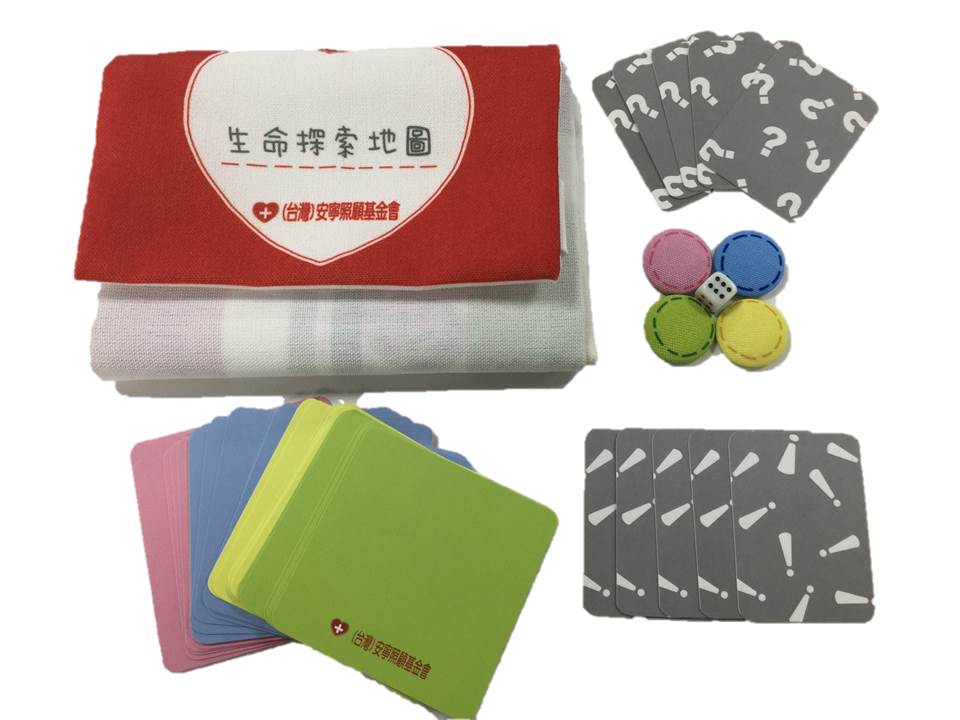 The loss of power and activity that comes along with aging and the fear of facing the unknown death have stricken many senior citizens with melancholy. As the population rapidly turns into an aging society, assisting and guiding elders to face the aging process and live positively has become a new yet essential assignment to all.
Hospice Foundation of Taiwan has worked together with Kaulin Foundation to jointly launch a board game called Life Discovery Map. The purpose behind this board game is to encourage senior citizens to step out of their routine and interact with others. The design of this board game is to offer elders a retro perspective and redefine the key moments of their lives by saying "thank you," "sorry," "I love you," and "farewell" as they wave away the doom and sadness of aging.
The designing concept of Life Discovery Map takes Monopoly as a reference. Besides involving movements like tossing dice, removing objects, and flipping cards to allow senior citizens to practice their hand coordination, the game cards are specifically designed by experts according to the Four Principles of Life, which guides players to review the events in life, e.g., people they are most grateful for, their greatest regrets, their proudest moments, and their difficult past experiences that are hard to let go. By recalling and reviewing these past events, senior citizens are able to reaffirm their worth.
"By reviewing our past mistakes, we receive a second chance to amend them and let them go; we learn to forgive others and ourselves, bringing life to its completion," said Vanessa Lin, CEO of Hospice Foundation of Taiwan. This fun board game can also serve as a little widget that opens up senior citizens' isolated lives and sets up relationships with others.
Kaulin MFG Co., Ltd., the parent company of Kaulin Foundation, has been devoting its resources to social welfare by transforming sewing, textile and design for the good of society. This is the first time the concept of death education has been integrated into its work. In fact, during the designing process, Kaulin Foundation gave thorough consideration to its aesthetics, and tried multiple materials to achieve its durability. Last but not least, it is made out of the leftover materials from the production line, giving it a chance to contribute and finally launch in January 2018.
Yu-chen Lin, CEO of Kaulin Foundation has said, "Textile has a character of being both soft and durable, just like senior citizens who are playing this board game have their own life stories, be it splendid or tragic. We hope to pay respect to their hardships and persistence through the textile's strength."
These first products of the Life Discovery Map board game will be introduced to long-term care facilities by Hospice Foundation of Taiwan to promote hospice and palliative care. It is also planned to be used in campus later on...